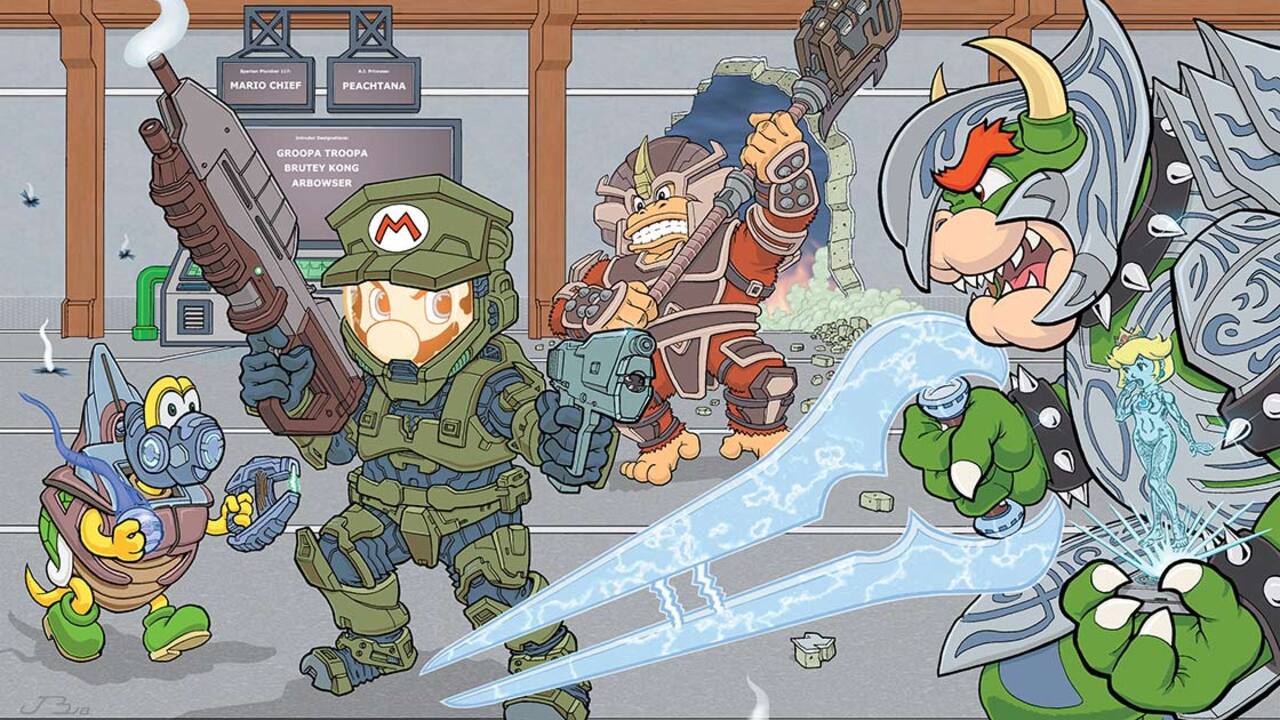 Phil Spencer's shelf has become a bit of a talking point over the past week. First, we heard how Hideo Kojima might be doing something exclusively with Microsoft, and now, the latest focus is the Switch on the top run. We've already noted how Jeff Grubb said "pretty much everything" is a reference to something or other, and Shpeshal Ed – the co-founder of XboxEra, has now suggested the cat is out of the bag.
So, what's going on? Is the Nintendo Switch getting Xbox Game Pass? Is Master Chief from the Halo series coming to Super Smash Bros. Ultimate? While nobody seems to know just yet, the official Halo Instagram account has now gone and posted the following fan art (thanks to Nintendo Life reader Slowdive for the heads up). It's sure interesting timing.
As you can see, it features Mario as Master Chief, Donkey Kong as "Brutey Kong", Bowser as the Arbiter, Koopa as a Grunt and Peach as Cortana. The artwork itself was done by pikathorchu. It's now, of course, got Halo and Nintendo fans wondering what's up – with many questioning if Master Chief is coming to Smash…
It's worth noting the Halo social accounts, including the official blog site, share fan art all the time. This "super" artwork was originally posted by 343 employee "Snickerdoodle" on 4th April, at the end of a community spotlight post.
"I'm forever a Nintendo girl at heart so I don't think I can adequately express how much I absolutely love this piece by @pikathorchu. Everything about it is super!"
Can you see another Nintendo and Xbox collaboration happening in the future? Would you like to see Master Chief follow-on from Minecraft's Steve and Banjo-Kazooie in Super Smash Bros. Leave your thoughts down below.